The Stiftskirche St. Nikolaus (collegiate church of St. Nikolaus) is a pure brick construction. It features the typical structure of a basilica: a central nave and two lateral aisles, to the East completed by a semi-circular apse. Windows in the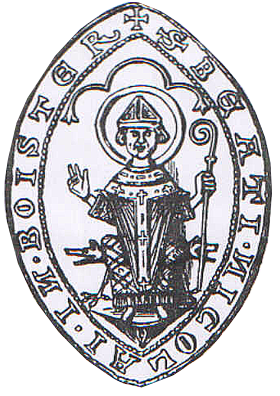 clerestories illuminate the central nave. The original square west tower (11.2 m x 11.2 m) of this Romanesque church had to be pulled down around the year 1500. Especially remarkable is the fact that the bricks were cold-processed, similar to ashlar. Shaped bricks had not yet been used at that time.
There is no documentation on the founding of the Stiftskirche. However, it is likely that the Edlen Gänse (an ancient German noble family, later die Edlen Gans zu Putlitz) were responsible for the founding of this church.
In manuscripts dating back to the year 1246, Konrad von Gottberg is mentioned as the canon of the Stift.
In 1337, margrave Ludwig allowed relocating the Stift from Groß Beuster to Seehausen; however, this never happened. The prior of the canons in Beuster became archdeacon of Seehausen
For more than 400 years, i.e. from 1150 to 1550, the Stift had a significant influence on the Christian and cultural life of the region.
Building History
before 1172 – 1st Romanesque building stage
Apse, high choir and parts of the nave are built.
1172 – 1184 – 2nd Romanesque building stage. Nave, lateral aisles, tower
13th century – interim stage The nave is provided with flooring comprised of square clay tiles. Measurements: 18.5 cm x 18.5 cm
around 1500 – late Gothic stage. Ripped vault, rood screen, altar; nave is plastered, new tower construction in the western (5th) bay of the nave
around 1750 – Baroque reconstruction. Lateral aisles and east gable of the choir newly erected after destruction, flooring made of Baroque bricks
1860 – 1878 – Romanesque reconstruction. All cornices are renewed, the Lombard band is added, lesenes are coloured red, panels are plastered, the neo-Romanesque organ gallery is built, pillars are set.
1902 Hot tar is applied directly to the masonry to protect the inner walls and pillars from moisture
Renovation as of 2000. In 2000, the roof was retiled. A year later, the Förderverein (~ sponsorship association) was established. In the following years, the Romanesque base was exposed. At the same time, new rainwater drainage pipes were laid. The interior floor, the level of which had increased by 60 cm throughout the centuries, was lowered to its original level. In the process, remains of the Romanesque and Gothic rood screen were exposed. By securing the remains of the Romanesque tower, redesigning the outer facilities and walkways, installing the new door in the west portal and renovating the electric system, good progress was made year-on-year. In 2010, the renewed organ was inaugurated. The conservation-restoration of the vaults of the nave and apse followed, and in 2015, renovation work on the facade began.